Chunk Loader přidává mód Chicken Chunks. Ten dokáže udržovat Chunky načtené i když jste daleko od nich. To umožňuje stálou aktivitu pecí, přístrojů a strojů. Pokud je použijete na Multiplayerovém serveru, budou aktivní i když se odpojíte.
Pokud do něj přivedete Redstone signál, Chunk Loader se vypne. Vypnutý Chunk Loader poznáte podle orbu, který nad ním levituje.
Crafting
GUI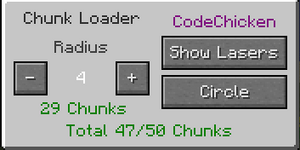 GUI Chunk Loaderu
Pouze majitel Chunk Loaderu může otevřít GUI.
Radius lze nastavit od 1 (1 chunk)-30 (361 Chunků). Je zde také tlačítko Show/Hide Lasers. Ty graficky znázorňují dosah Chunk Loaderu.
Chunk Loader má několik módů načítání:
Square (čtverec)
Circle (kruh)
Řada X
Řada Z
Ad blocker interference detected!
Wikia is a free-to-use site that makes money from advertising. We have a modified experience for viewers using ad blockers

Wikia is not accessible if you've made further modifications. Remove the custom ad blocker rule(s) and the page will load as expected.