Vizualizace jednoho Chunku.
Chunk
(čteno "čank") je segment Minecaft
světa
. Chunky jsou velké 16 blocků na šířku, 16 blocků na délku a 256 blocků vysoké. Celkem mají 65,536 blocků. Chunky se generují okamžitě kolem hráče když vstoupí do světa. Je možno vygenerovat až 14 trilionů chunků (14,062,500,000,000).
Přesný počet vygenerovaných chunků záleží na pohybu a view distance hráče. Kolem hráče se načítá 21x21 (441) chunků. V nich se můžou spawnout mobové, růst stromy apd.
Tvorba chunků
Chunky se generují podle typu mapy (seed) a bude se generovat vždy stejně pokud máte stejný seed.
Nalezení hran Chunků
Stisknutím "F3" otevřete Debug Screen, který zobrazí hráčovu X, Y a Z polohu. Tyto souřadnice se mění jak se hráč hýbe. Na souřadnicích X a Z můžete spočítat velikosti a hrany Chunků. Stačí sčítat, odčítat nebo násobit 16 (0, 32, 48, 64...).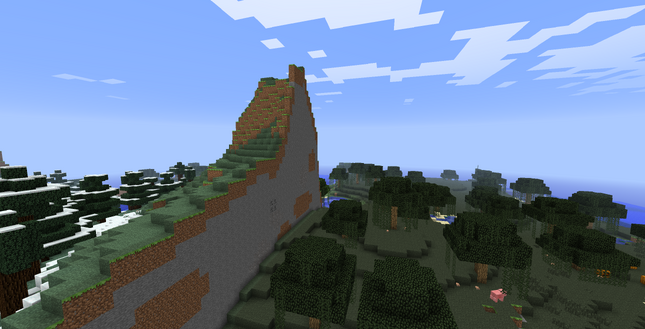 Příklad chyby generování světa po přechodu verzí.
Chyby Chunků
Chyba Chunku (nebo také chybějící Chunk) se nejčastěji vyskytuje v Multiplayeru, ale může nastat i v Singleplayeru. Je to typická chyba na straně klienta. Přepojením na server nebo znovu načtení mapy opraví tyto problémy.
Hráč může skočit nebo spadnout do tohoto chybného chunku. Začne padat a zároveň ho to bude vyhazovat zpátky na správnou výšku. Pokud do chybného chunku hodíte itemy, přijdete o ně.
Další chyba Chunku se nazývá "Výměna biomu". Tuto chybu nejčastěji spatříte pokud přecházíte na jinou verzi a používáte stále starý svět. Na kraji nového generování světa se toto může vyskytnout.
Také se může stát, že v Multiplayeru přijdete do Chunku, který bude prázdný. Můžete se v něm pohybovat a chová se jako normální. Vy ale vidíte prázdný chunk.
Tyto chyby Chunků můžete spravit několika způsoby:
Přelogováním na server/znovu-načtení mapy.
Vypnutí a zapnutí Minecraftu.
Změnit nastavení Render Distance (dohled).
Stisknutí kláves F3+A což okamžite načte chunky kolem vás.
Využití chybných Chunků
Často hráči využívají chyby chunků aby viděli skrz chybnou část. Díky tomu pak mohou snadno nalézt cenné suroviny, jeskyně, Dungeony nebo schované struktury v podzemí. Pak si toto místo označí a znovu načtou mapu.
Ad blocker interference detected!
Wikia is a free-to-use site that makes money from advertising. We have a modified experience for viewers using ad blockers

Wikia is not accessible if you've made further modifications. Remove the custom ad blocker rule(s) and the page will load as expected.