Central Processing Unit (zkráceně CPU) je hlavní komponent všech počítačů. Aby jste ho mohli použít potřebujete Monitor a Disk Drive. Pomocí Monitoru lze zadávat příkazy a přes Disk Drive můžete nainstalovat operační systém MineOS nebo ukládat vaše vlastní kódy. Tyto přístroje musíte propojit pomocí Ribbon Cable.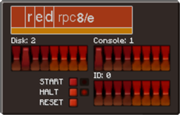 GUI Central Processing Unit
V CPU se nachází dvě tlačítka na START a RESET. Je zde také nastavení ID. Základní CPU má 1.142 bytů RAM. Ty však lze navýšit pomocí Backplane a 8K RAM Modulů až na 57,344 bytů RAM.
Návody, tipy na programování a vysvětlení ID naleznete zde → Redpower Control
Crafting
Ad blocker interference detected!
Wikia is a free-to-use site that makes money from advertising. We have a modified experience for viewers using ad blockers

Wikia is not accessible if you've made further modifications. Remove the custom ad blocker rule(s) and the page will load as expected.