CF Sprayer je nástroj, používaný k položení Construction Foam. Pokládání Construction Foam pomocí CF Sprayerem je výhodnější než pokládání rukou (ušetříte až 12 blocků).
Crafting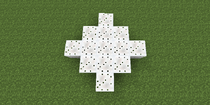 Sprejovaná plocha o 13 blocích.
Doplnění
Doplnit CF Sprayer můžete dvěma způsoby. Buď doplněním celé životnosti nebo po 1/8.
1/8 doplnění
Plné doplnění
Využití
Tip
Můžete při sprejování používat Scaffold. Nahradíte ho Construction Foam. Díky tomuto způsobu můžete vytvářet zdi bez nechtěného sprejování okolí.
Od verze 1.70 můžete zastříkat i kabely, což umožňuje schování kabelu třeba ve zdi.
Ad blocker interference detected!
Wikia is a free-to-use site that makes money from advertising. We have a modified experience for viewers using ad blockers

Wikia is not accessible if you've made further modifications. Remove the custom ad blocker rule(s) and the page will load as expected.