Builder je přístroj, který staví budovy podle Template. Musí být napájen, aby fungoval. Template můžete vytvořit v Architect Table. Tímto způsobem můžete lehce duplikovat vaše stavby.
Crafting
Využití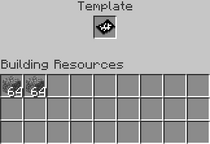 GUI Builderu.
Pokud je Builder položen, nic se nestane. Aby něco začal dělat musíte do něj vložit Template, kterou vytvoříte v Architect Table. Pokud vložíte do Builderu Template, před ním se objeví žluto-černá krychle, která bude vytyčovat oblast stavby. K pohánění Builderu potřebujete energii (MJ). Pro jednoduché stavby stačí Stirling Engine (jako cobblestone kostka). Pro komplexnější, složitější a větší budovy je zapotřebí mnohem více energie, kterou vám může poskytnout Combustion Engine.
Na závěr musíte do Builderu vložit blocky, ze kterých stavba je.
Ad blocker interference detected!
Wikia is a free-to-use site that makes money from advertising. We have a modified experience for viewers using ad blockers

Wikia is not accessible if you've made further modifications. Remove the custom ad blocker rule(s) and the page will load as expected.