Blutricity je elektrika z módu Redpower 2. Většina přístrojů z tohoto módu je napájena pomocí Blutricity. Velikost Blutricity změříte pomocí Voltrmetru.
Blutricity se rozděluje na Volty (V), Ampéry (amps) a Watty (W):
Volt: Velikost balíčků procházející kabelem Ampér: Počet balíčků procházejícím kabelem Watt: Celkové množství energie procházející kabelem. Vypočítá se Volty*Ampéry.
Ztráty
Při tvorbě Blutricity se Eloraam (vývojářka módu) snažila, aby byl tato energie co nejvíce reálná. Proto jsou zde i ztráty. Ty závisí na délce vedení a na druhu použitém kabelu. Ztráty vypočítáte:
Ampéry (amps) * Odpor (Ω) = Ztráty na jeden block

Blue Alloy Wire 0.02 Ω; Voltage Transformer 0.01 Ω; 10kV Wire 2 Ω; Ostatní Blulectric přístroje 0.02 Ω.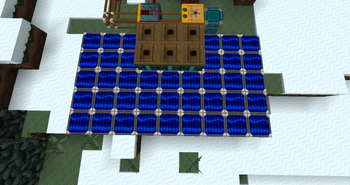 Znázornění pravidla #1. Solarní panely jsou vzájemně propojeny s Battery Boxy.
Pravidlo #1
Nejdůležitější vlastností Blutricity, které se také označuje jako "Pravidlo #1" je převádění energie mezi přístroji bez potřeby kabelů. Pokud tedy máte pole Solarních Panelů nemusíte je všechny propojovat kabelem. Stačí je položit vedle sebe a připojit jen jeden z nich. Toto pravidlo funguje na celou Blutricity (včetně přístrojů).
Generátory Blutricity
Kinetic Generator - Horizontální až 2,500 W a Vertikální až 5,000 W záleží na výšce postavení.
Solar Panel - Generuje až 200 W během dne, průměrně 100 W za celý den.
Thermopile - Generuje až 50 W, záleží na sestavě
Přístroje, které používají Blutricity
Uvnitř Redpower přístrojů
V každém Redpower přístroji máme na levé straně 2 sloupce:
První je označen ikonou baterie. Tento sloupec indikuje vnitřní úložiště energie. Aby přístroj fungoval musí se hladina energie dostat nad červenou úroveň.
Druhý je označen ikonou blesku. Tento sloupec zobrazuje spotřebu přístroje. Plný sloupec znamená rychlejší pracování přístroje, prázdný naopak žádnou činnost.
Konverze energie
Je možné přeměnit Blutricity na MJ (Build Craft energie) pomocí Blulectric Enginu. Poměr převodu je 1 kW: 1 MJ s maximálním výstupem 23 MJ/t.
Převod z Blutricity na EU (Industrial Craft enegie) není možný.
Redpower 2
 

Blutricity

Úložiště Energie

Generátory Energie

Přístroje

Kabely
Ad blocker interference detected!
Wikia is a free-to-use site that makes money from advertising. We have a modified experience for viewers using ad blockers

Wikia is not accessible if you've made further modifications. Remove the custom ad blocker rule(s) and the page will load as expected.