Blueprint Library je schránka k ukládání Templatů a Blueprintů. Přidáním do této knihovny uloží informace do přístroje a ty pak lze sdílet mezi ostatními hráči. Lze ho také použít k zapisování staveb na Template nebo Blueprint.
Ukládání do knihovny.
Využití
K uložení Template nebo Blueprint, otevřete Blueprint Library kliknutím pravým tlačítkem myši. Schéma vložte do slotu na pravé straně. Je u něj šipka ukazující doleva. Po krátké chvíli se objeví název schématu v okně nalevo. Pokud položíte Template nebo Blueprint do slotu se šipkou ukazující doprava, zapíše se schéma na nový plánek.
Varování: Neukládejte Template a následně nezapisujte na Blueprint nebo naopak. Vložením tohoto schématu do Builderu způsobí pád klienta a zničení světa.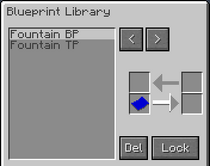 Zapisování do knihovny.
Crafting
Ad blocker interference detected!
Wikia is a free-to-use site that makes money from advertising. We have a modified experience for viewers using ad blockers

Wikia is not accessible if you've made further modifications. Remove the custom ad blocker rule(s) and the page will load as expected.