Bedrock
Typ
Pevný Block
ID
7
Obnovitelný
Ne
Blast Resistance
18,000,000
Stackovatelné
Ano(64)
Mod
Vanilla
Bedrock, také známý jako Adminium, je nezničitelný materiál. Je jenom pověra, že Bedrock lze zničit pomocí dostatečného množství TNT. Nedá se vytěžit ani vyrobit.
Těžba
Bedrock je nemožné získat ve hře bez creativu.
Void Fog
Patro 28 a níže zahaluje temná mlha, černá barva je doplněna šedými částicemi. Čím jste níže, tím více máte snížený dohled. Void fog pochází z Voidu a lze ji narušit pouze slunečním světlem.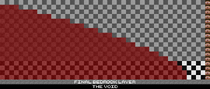 Zobrazení dohledu u Bedrocku
Výskyt
Hlavní funkce Bedrocku je oddělit spodek světa od Voidu, proto tvoří nejnižší patra (0-4). Tyto patra nejsou rovnoměrná, hráč může zapadnout do mezery a bez blocků se nedostane ven. Propadnout do Voidu ale nemůže.
V Netheru je jím oddělen navíc ještě strop (4 patra).
V Endu ho můžeme nalézt na obsidiánových věžích a po zabití Ender Dragona se z něj vytvoří portál do normálního světa.
Zajímavosti
Chození po Bedrocku nevydává žádný zvuk.
Bedrock je jeden z mála blocků, které lze najít ve všech třech světech.
Bedrock nelze posunout pistonem.
Ad blocker interference detected!
Wikia is a free-to-use site that makes money from advertising. We have a modified experience for viewers using ad blockers

Wikia is not accessible if you've made further modifications. Remove the custom ad blocker rule(s) and the page will load as expected.