Aurelia je rostlina 8. Třídy, kterou lze získat jen pomocí Cross Breeding (křízení).
V prvních stádiích růstu vypadá stejně jako Ferru nebo Coffee Beans.
K sklizení klikněte pravým tlačítkem myši a můžete dostat Gold Nugget. Pokud kliknete levým tlačítkem, rostlinu zničíte a vypadne vám Aurelia Seed Bag.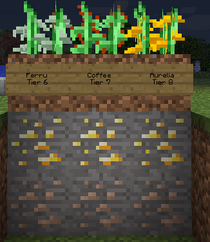 Pokud nevíte jakou rostlinu pěstujete, postavte blocky takto.
K vyšlechtění Tulip je vhodná kombinace křížení: Ferru + Ferru, Coffee + Coffee.
Poznámka: Aby Aurelia vyrostla do finálního stádia, kde z ní můžete sklízet Gold Nugget, musí být block pod rostlinkou (pod hlínou) Gold Ore.
Růstová stádia Aurelie:
Vše potřebné pro Farmaření v IC 2
Ad blocker interference detected!
Wikia is a free-to-use site that makes money from advertising. We have a modified experience for viewers using ad blockers

Wikia is not accessible if you've made further modifications. Remove the custom ad blocker rule(s) and the page will load as expected.