Assembly Table je přístroj na výrobu Pipe Wire, Gates a Redstone Chipsetů.
Assembly Table nepotřebuje energii přímo, ale k jeho provozu je potřeba Laser. Aby fungoval musí být Laser ve vzdálenosti maximálně 4 blocků. Více Laserů zvýší rychlost produkce. Itemy se v něm neukládají a vyhazují se na zem. Pokud je však vedle něj truhla, budou se itemy ukládat do ní.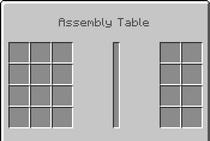 GUI Assembly Table.
GUI
Kliknutím pravým tlačítkem myši na Assembly Table otevřete GUI. Na levé straně je oblast, kam vkládáte craftící materiál. Pokud zde je vše potřebné, na pravé straně se objeví výrobek. Kliknutím na výrobek se označí a začne se vyrábět (pokud jsou napájeny Lasery). Pokud na něj kliknete znovu, výroba se zruší.
Crafting
Využití
Všechny tyto itemy potřebují k výrobě Assembly Table a napájení Laserem.
Chipsety
Red Pipe Wire x8 - Redstone + Iron Ingot + Rose Red
Blue Pipe Wire x8 - Redstone + Iron Ingot + Lapis Lazuli
Green Pipe Wire x8 - Redstone + Iron Ingot + Cactus Green
Yellow Pipe Wire x8 - Redstone + Iron Ingot + Dandelion Yellow
Gate - Redstone Chipset
Iron AND/OR Gate - Iron Chipset, Red Pipe Wire
Gold AND/OR Gate - Gold Chipset, 1 each Red & Blue Pipe Wire
Diamond AND/OR Gate - Diamond Chipset, 1 each Red, Blue, Green, & Yellow Pipe Wire
Každý Gate může být vylepšena na Autarchic Gate.
Ad blocker interference detected!
Wikia is a free-to-use site that makes money from advertising. We have a modified experience for viewers using ad blockers

Wikia is not accessible if you've made further modifications. Remove the custom ad blocker rule(s) and the page will load as expected.