Arrow (šíp) je munice do Luku nebo Dispenseru. Můžete je získat zabitím Skeletona nebo craftingem. Působí na ně grafitace a pokud je střelíte do země lze je znovu sebrat. Můžete je dostřelit maximálně 24 blocků daleko.
Způsobují maximálně

poškození na plně natažený luk. Šípy vystřelené z Dispenseru způsobují

. Po zásahu je cíl 0,5 vteřiny imunní proti dalšímu zásahu.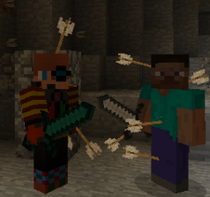 Dva hráči zasažený šípama.
Šípy se také zabodnou do objektů a po chvíli zmizí. Šípy můžete z objektů vzít. Skeleton však střílí specální šípy, které nelze sebrat. Pokud se do blocku zabodnou šípy a block rozbijete, spadnou šípy dolů a mohou zranit hráče/moba.
Mohou rozbít Minecart i Loďku. Pokud šíp proletí Lávou (ne Ohněm!), zapálí se a cíl po zásahu začne hořet.
Vystřelený šíp do Kolejí zastaví Minecart a šíp musíte sebrat nebo ho nechat zmizet. Zásahem Minecart with Chest způsobíte rozbití a rozsypání itemů na zem.
Pomocí šípu je možné aktivovat Wooden Button a Wooden Pressure Plate a zůstanou tak dlouho aktivní dokud šíp někdo nesebere nebo nezmizí.
Crafting
Itemy z klasického Minecraftu
Ad blocker interference detected!
Wikia is a free-to-use site that makes money from advertising. We have a modified experience for viewers using ad blockers

Wikia is not accessible if you've made further modifications. Remove the custom ad blocker rule(s) and the page will load as expected.