Arboriculture je název pro šlechtění stromů v módu Forestry. Existuje mnoho milných představ o tom jak funguje šlechtění stromů. Šlechtit stromy můžete jednoduše pomocí včel.
Jak začít?
Zasaďte co nejvíce stromů co nejblíže k sobě. Dbejte, aby jste zachovali co nejvíce listů, protože ty jsou zdrojem vyšlechtěných saplingů. Pro správné šlechtění, musíte mít blízko sebe alespoň 2 různé druhy stromů. Pro začátek je nejlepší zasadit vanilla stromy (Birch, Jungle, Spruce nebo obyčejný Oak).
Po zasazení stromů, položte mezi stromy Apiary nebo Alveary. Vložte do nich včely tak, aby produkovali. Správnou funkci poznáte, že z Apiary vyletují malé včeličky. Šlechtění stromů je zdlouhavé a proto musíte apiary/Alveary pravidelně doplňovat.
Jak sklízet?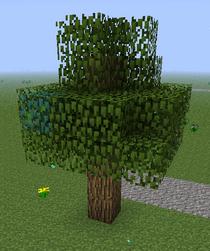 Šlechtění můžete vidět na jednom listu, který má jinou barvu.
Vyšlechtěné stromy poznáte podle změny listí. Kontrolujte pravidelně listi všech okoních stromů. Nemění se listy celé koruny, ale pouze jeden block listí. Mají různé barvy, od modré přes červené nebo tmavě zelené. Některé barvy jsou skoro totožné s původní barvou.
Pokud narazíte na takto vyšlechtěný block listí co s ním dělat? Jednoduše ho rozbijte rukou. Potřebujete aby vám vypadl Sapling vyšlechtěného stromu. Bohužel je zde velmi malá šance na drop Saplingu, takže pokud vám nic nevypadne nezoufejte. Je to normální jev a musíte čekat na další "zmutované" listí.
Treealyzer
GUI Treealyzeru.
Pokud se vám podaří dostat Sapling ze zkříženého listí, doporučujeme ho vložit do Treealyzeru. Je to přenostný přístoj, stejný jako Beealyzer, ale přímo pro stromy.
K provozu Treealyzeru potřebujete Honey Drop. Zobrazí vám veškeré info o Saplingu. Rychlost růstu, plodnost, co produkuje a mnoho dalšího.
Tento sken Saplingu je důležitý pro další šlechtění.
Grafter
Grafter je nezbytný nástroj k šlechtění stromů. Pokud jím rozbijete block listí, je zde 100% šance, že vám vypadne sapling.
POZOR strom musí vyrůst ze Saplingu, který byl analyzován pomocí Treealyzeru.
Seznam stromů
Zde je kompletní seznam všech stromů, které můžete vyšlechtit. POZOR SPOILER!
Strom
Kombinace
Velikost
Ovoce
Apple Oak
1x1
Apple
Birch
1x1
Spruce
1x1
Jungle
1x1
Cocoa
Silver Lime
Oak + Birch (15%)
1x1
Willow *
Oak + Birch (10%)


Oak + Silver Lime (10%)
Birch + Silver Lime (10%)

1x1
Hill Cherry
Oak + Silver Lime (10%)


Birch + Silver Lime (10%)

1x1
Cherry
Common Walnut
Cherry + Silver Lime (10%)
2x2
Walnut
Sweet Chestnut
Cherry + Walnut (10%)


Walnut + Silver Lime (10%)

2x2
Chestnut
Mundane Larch
Oak + Spruce (15%)


Birch + Spruce (15%)

1x1
Bull Pine
Spruce + Mundane Larch (10%)
1x1
Sequoia
Bull Pine + Mundane Larch (5%)
3x3
Teak
Jungle + Silver Lime (10%)
1x1
Kapok
Jungle + Teak (10%)
1x1+
Myrtle Ebony
Teak + Kapok (10%)
3x3-
Yellow Meranti
Kapok + Myrtle Ebony (10%)
2x2+
Sipiri **
Kapok + Yellow Meranti (10%)
1x1+
Balsa
Teak + Silver Lime (10%)
1x1
Desert Acacia
Teak + Balsa (10%)
1x1
Wenge
Balsa + Desert Acacia (??)
2x2
Grandidier's Baobab
Wenge + Balsa (10%)
3x3
* Musí být vyšlechtěn ve vlkhém biomu (Bažina, řeka apd)
** Musí být vyšlechtěn v tropickém biomu (Jungle, Mini Jungle, atd.)
Ad blocker interference detected!
Wikia is a free-to-use site that makes money from advertising. We have a modified experience for viewers using ad blockers

Wikia is not accessible if you've made further modifications. Remove the custom ad blocker rule(s) and the page will load as expected.