Apiary (včelí úl) ubytuje vaše včely a vaše včelí královny (dále Princess). Také umožní množit Princess s Drony. Apiary jsou poměrně složité na výrobu. V NPC Village můžete najít včelaře, který má Apiary na zahradě nebo vám ho může prodat za trochu dřeva.
Podmínky
Aby vaše královna (dále Queen) mohla začít produkovat, musí být splněno několik podmínek:
Nesmí pršet (některé včely můžou produkovat i v děšti)
Apiary musí mít volný výhled na nebe (některé včely to nevyžadují)
Musí být den (některé včely můžou být noční)
V okolí Apiary musí být minimálně jedna květina (pouze Vanilla květiny)
Biom musí být shodný s biomem, který vyžaduje Queen uvnitř Apiary
Apiary nevyžaduje energii, pokud je naplněno správnými včelami. Při produkci začnou růst kolem Apiary květiny. Pomocí BuildCraft trubek můžete vyjmout nebo vložit produkty, Princess nebo Drony ze stran Apiary. Apiary přijme nové Drony nebo Princess pouze pokud má volný slot. Bez Framů Apiary produkuje pouze 10% rychlostí Alveary.
GUI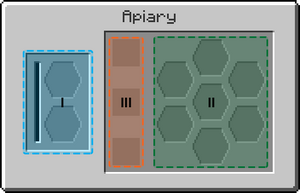 GUI uvnitř Apiary
I. Queen slot:  Obsahuje aktuální královnu nebo Princess. Nalevo je bar, který ukazuje životy královny.
II. Drone slot:  Pokud je Queen slot obsazen Princess a do tohoto slotu vložíte Drona,začne proces páření. Výroba Queen vás bude stát Drona i Princess. Typ Queen se odvíjí podle druhu Princess i Drona.
III. Inventář na výrobky:  Produkty se objeví v tomto inventáři. Když Queen zemře, Princess a Drony se sem taky uloží. Queen vždy vyprodukuje jednu Princess a 1-4 Drony. Hlavní produkt produkován včelami je Honey Comb, speciální včely produkují jiné druhy Combů.
Crafting
Ad blocker interference detected!
Wikia is a free-to-use site that makes money from advertising. We have a modified experience for viewers using ad blockers

Wikia is not accessible if you've made further modifications. Remove the custom ad blocker rule(s) and the page will load as expected.