Advanced Enchantment Table je vylepšený Enchantment Table, díky kterému si můžete zvolit jakýkoliv Enchant, který chcete. Lze nastavit i sílu Enchantu (I, II,III apd).
Do levého okna se vkládá Enchantovaný item, vpravo nastavujete typy a sílu enchantů. Enchanty lze kombinovat. Pomocí tlačítka Vanilla můžete přepnout do klasické verze Enchantment Tablu a zpátky tlačítkem Mod.
Advanced Enchantment Table zobrazuje aktuální hráčův level, současný level, jaký bude stát Enchant a maximální Enchantovací level.
Advanced Enchantment Table lze získat i vylepšením obyčejného Enchantment Tablu pomocí Enchantment Table Upgradu.
Crafting
GUI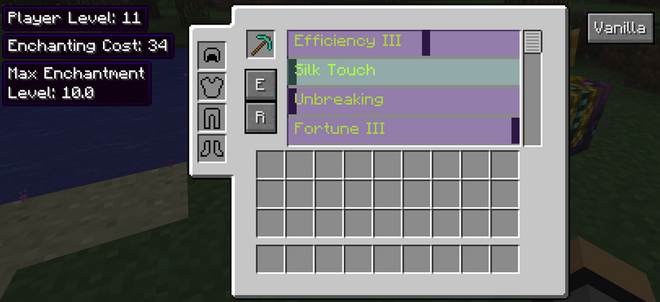 Ad blocker interference detected!
Wikia is a free-to-use site that makes money from advertising. We have a modified experience for viewers using ad blockers

Wikia is not accessible if you've made further modifications. Remove the custom ad blocker rule(s) and the page will load as expected.